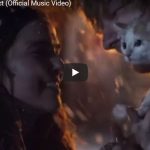 All of a sudden I want to plan a trip to ski Blue Mountain in the Poconos…watch this and you'll understand why.
This video is P E R F E C T in every single cotton-pickin' way!! This Love…. That is what I want.
And, yes, I got teary-eyed. Which part? When he is singing to her. Dunzo. Stick a fork in me.
And dancing in the snow. Yes, I want that, too.
Laughs, Smiles, Playful Flirting…this video defines R O M A N C E!
Enjoy and thanks for stopping by!
jes.jordan.