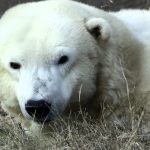 The Oldest polar bear in the US celebrates in style with a 37th Birthday Party at the Philadelphia Zoo!! Coldilocks had a Birthday  cake, earlier today, made of Peanut Butter, Honey, Raisins and Fish. Visitors braved the cold  to sing "Happy Birthday" to the bear!
The average lifespan for polar bears in captivity is 23 years. They credit Coldilocks' long life to the care she receives from her keepers and veterinary staff.
Happy Birthday, Coldilocks!!!
~Angel Donato