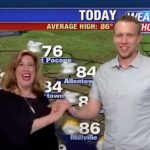 MOST VALUABLE WEATHERMAN: @Eagles QB @NickFoles helped Sue Serio with her weather forecast. We're hoping he sees another Super Bowl coming our way! #FlyEaglesFly

MORE: https://t.co/F7RPYpbkVG pic.twitter.com/s1ZVyWV3UY

— FOX 29 (@FOX29philly) June 28, 2018
This is so wonderful. And he's actually really good! His pointing is A+.
Nick Foles stopped by FOX 29's Good Day Philadelphia yesterday to promote his memoir and, duh, talk about winning the Super Bowl. And why not, he got to try his hand at doing the weather report, too.
He's kind of a natural in front of the camera, talking about the humidity and then NAILING pointing to the correct area of the screen that's the Philly high temp. That's hard! I tried it on a class trip once!
Sue Serio fangirling over the whole thing is my favorite part. She's me. She's all of us.
"Follow that one Bob Kelly."
Oh he did, he got Nick Foles to do the traffic too. Here's the whole segment:
If ONLY they had thrown it back to the desk after traffic and it was actually Nick Foles there–get it? Thrown to Nick Foles? The PHILLY SPECIAL??? AMIRITE????? I will show myself out.
Follow Andrea on twitter at @_AndreaDuffy