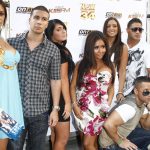 If you were in Atlantic City over the weekend you may have seen the cast of Jersey Shore!!  They were at Harrah's Casino in Atlantic City to support Pauly D's DJ gig! Getting everyone thinking… that maybe that's where season 2 would take place. Seems like a perfect fit!
There's a few places that the cast will not be filming. "Jersey Shore: Family Vacation" has been rejected to film in a Brick Township home. According to the Asbury Park Press the Mayor said filming would greatly disrupt the neighborhood with a lot of traffic and people. They have also been rejected by Wildwood. 
As for Seaside Heights…the place where it all started… The Asbury Park Press says the town issued a permit to allow for two days of filming for the reality show!!! 
Road trip anyone! GTL 
~Angel Donato