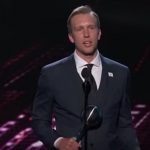 Not bad for someone who says he didn't prepare a speech!
Nick Foles won the ESPY award for Best Championship Performance last night at the ESPYs on ESPN, and his words were awed, grateful, humble and inspiring. He talked about what a great team the Eagles are and how fun it is to walk into the locker room every day. How his career path is weird and he would never have expected to be up there. He thanked the Philly fans, "even though y'all get a rap everywhere…[pause for hollers from people who know what's up]…the passion. Y'all bring it every day, so thank you."
And then he offered some great advice to, specifically, the kids in the audience, but in general, it's great advice for everyone:
There's gonna be people that doubt you. Don't listen to 'em. What matters is what's in here [pointing to his heart] and the people that love you, that support you. Go out there every day and be bold."
Watch the whole thing above.
Follow Andrea on twitter at @_AndreaDuffy