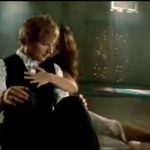 This makes me want to watch the whole "Thinking Out Loud" video again…I forgot how good that was.
Get to know Ed Sheeran's video history in five minutes or so. Billboard has been putting together these "music video evolution" mashups, and now it's Ed Sheeran's turn. He looks like a BABY in these early ones, and tbh I don't recognize anything until about 4 in.
Check it out! Ed has definitely had a bunch of styles through the years.