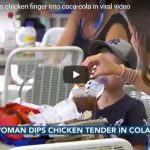 I woke up the other morning to this news story on GMA. Chicken fingers dipped in an icy CocaCola? I would try it. Would you?
If you have no idea what I'm talking about, there was an Aunt with her nephews at the US Open last week and someone caught her dipping her chicken in her coke and it was all the rage the next day.
And then today I was scrolling thru my FB feed and saw this craziness:
Coke with peanuts? That's weird, too….
Please enlightened me on any other weird food combos I am CLEARLY missing out on .
As a wee lil Jessie Jordan I used to put plain potato chips inside my PB&J sandwiches, is that weird?
Thanks for stopping by!
**jessiejordan**