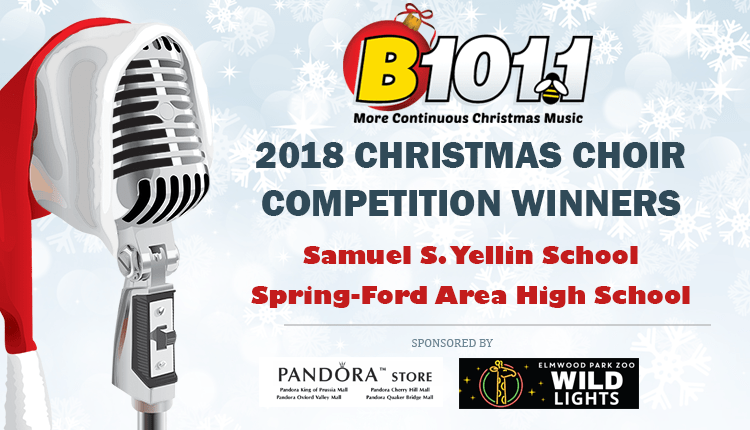 Christmas Choir Competition 2018
Congratulations to our K-8 Division Champions!!
1ST PLACE:
Samuel S. Yellin Elementary – Blue and Gold Choir from Stratford, NJ and their song Winter Magic wins $5,000 cash and will perform with the Philly Pops on Wednesday, December 5, 2018, plus B101.1 will play their song during the holiday season.
2ND PLACE:
Chestnut Ridge Middle School – Vocalise from Sewell, NJ and their song, Carol of the Bells.  They win a $2,000 cash prize.
3RD PLACE:
Indian Valley Middle School – 7th & 8th Grade Choir from Harleysville and their song, It's the Most Wonderful Time of the Year. They win a $1,000 cash prize
The High School division will compete from December 3 – 7, 2018.
Here are the High School Division Semi-finalists:
Monday 12/3
Camden Catholic High School   – School Choir
Cherry Hill, NJ
O Come All Ye Faithful
Ridley High School – Rhapsody feat. the Raider Choir
Folsom, PA
Merry Christmas, Happy Holidays
Moorestown Friends School – Chamber Singers
Moorestown, NJ
Hark, the Herald Angels Sing
Tuesday 12/4
Williamstown High School – Chamber Choir
Williamstown, NJ
Have Yourself a Merry Little Christmas
Germantown Friends School – GFS Choir
Philadelphia, PA
Deck the Halls
Moorestown High School – Madrigals
Moorestown, NJ
Up On The Housetop
Wednesday 12/5
Cherry Hill East High School – Stay Tuned Choir
Cherry Hill, NJ
White Christmas
Spring-Ford Area High School   – Vocal Ensemble
Royersford, PA
Angel Medley 
Cherokee High School – Concert Choir
Marlton, NJ
O Come, All Ye Faithful 
Your School Choir Featured
If your choir wins the grand prize, your song will be featured on B101.1 during the holidays and your school's music program will win a cash prize up to $5000. Our first place winners will also win the opportunity of a lifetime – to perform live on stage at a PHILLY POPS CHRISTMAS. Imagine the house lights dim, The Philly POPS take the stage and you join them to perform in front of the cheering audience! It will be a magical moment you'll never forget!

Help us spread the word about the importance of music education in our schools. Share your photos or videos of your choir with hashtag #KeepMusicInSchools on social media, and tell everyone why you keep making music in your school. Tag @B101FMPhilly and @ThePhillyPOPS, and we may share your post with our fans.