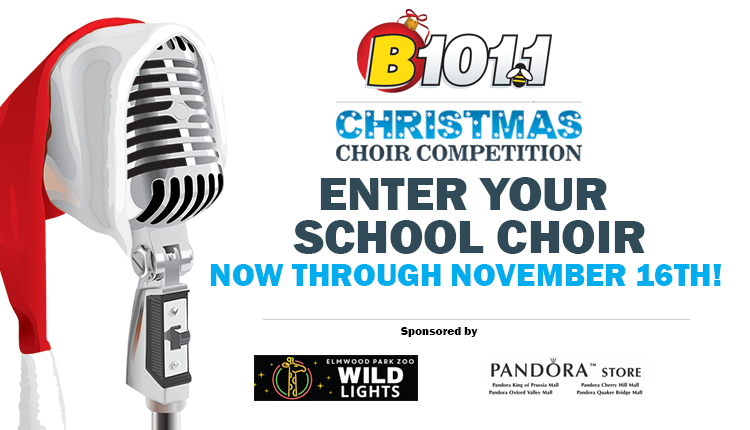 Christmas Choir Competition 2018 Entry
Do you think your school choir is the best in the Philadelphia area? If so, enter your choir in the B101.1 Christmas Choir Competition for the opportunity to showcase your choir to the entire Delaware Valley this holiday season.
Our competition is open to all school choirs in the Philadelphia eight-county area. We have two divisions – a kindergarten through 8th grade division and a 9th through 12th grade division.
Your School Choir Featured
If your choir wins, your song will be featured on B101.1 during the holidays and your school's music program will win a cash prize up to $5000. Our first place winners will also win the opportunity of a lifetime – to perform live on stage at a PHILLY POPS CHRISTMAS. Imagine the house lights dim, The Philly POPS take the stage and you join them to perform in front of the cheering audience! It will be a magical moment you'll never forget!

The period to submit your song entries is October 15 – November 16, 2018 at 5:00pm. We look forward to your entry this Holiday season!
Help us spread the word about the importance of music education in our schools. Share your photos or videos of your choir with hashtag #KeepMusicInSchools on social media, and tell everyone why you keep making music in your school. Tag @B101FMPhilly and @ThePhillyPOPS, and we may share your post with our fans.